Pasta For A Pudding? Why Not?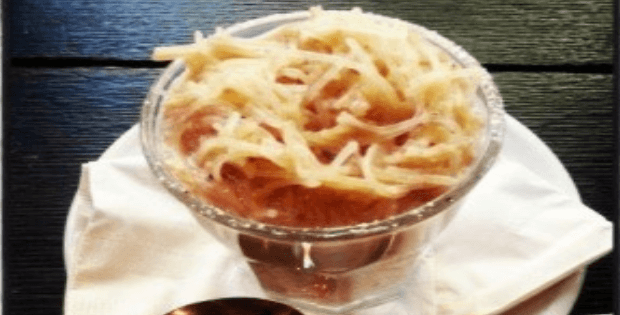 |
Our Mum knew a think or two about serving pasta for pudding.
Here at Scrummy Pasta when we were kids our Mums made Macaroni Pudding and we loved it, sometimes she even added fresh fruit but only on Sundays !
Well this pasta dessert, Spiced Vermicelli Pudding, is an equally delicious way to serve pasta as a dessert. We like lots of cinnamon and nutmeg, and we sprinkle more on to taste.
Why not invite your Mum round this Sunday for dinner and show her that pasta pudding is alive and well! Why not push the boat out and offer her fruit with it as well, it is Sunday after all !!!
What fruit do you like with it? let us know so we can try it.
Ingredients

4 cups/1 quart/32 oz. 2% milk
3 Tbsp./1 ½ oz. sugar
3 cardamom pods
1/8 tsp. cinnamon, plus additional for garnish
Several grates of nutmeg, plus additional for garnish
Pinch of salt
1 tsp. unsalted butter
2 oz. rice vermicelli, broken into pieces

Method

Place the milk, sugar, cardamom, cinnamon, nutmeg and salt in a saucepan and bring to a boil.

Reduce heat to a simmer. Cook until the mixture has reduced by about 1/3.

Place the butter in a sauté pan and heat until melted. Add the vermicelli and cook, stirring, until the strands are browned. Reserve.

When the milk is reduced, strain out the solids. Return the milk mixture to the saucepan. Heat over low heat.

Stir in the vermicelli and continue to cook, stirring from time to time until vermicelli is cooked and the milk has further reduced. The yield should be about 2 cups.