The Secret To The Best Baked Macaroni Cheese!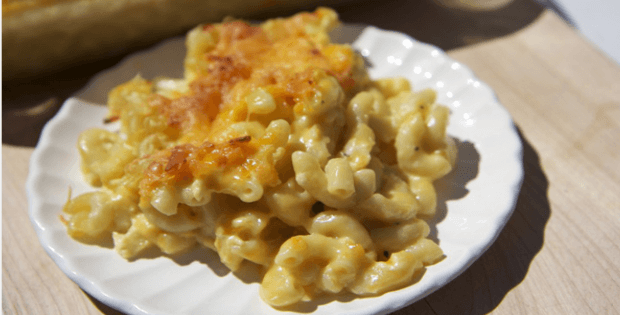 |
The most scrummy Macaroni Cheese
A Perfect Marriage of Smoked Cheese, Cream & Macaroni – Mmmmmm!
Adding paprika and smoked cheese to this Macaroni Cheese recipe gives the dish a whole southern vibe.
We're always looking for pasta dishes that we can serve anytime on their own and this recipe fits the bill but we like to serve it with a simple tomato salad. Sometimes for that extra special occasion we also add some shredded smoked ham…Wow!
Is this the Best Mac 'n Cheese of all time? Let us know if you've got a better recipe.
Southern Baked Macaroni and Cheese Recipe

Preparation time – 10 mins
Cook time – 35 mins
Total time – 45 mins

Serves: 6

Ingredients

3 cups macaroni, uncooked
2 eggs
½ cup heavy cream
1½ cups milk
salt & pepper
paprika (optional)
1 cup smoked cheddar cheese, shredded (a must)
6-8 oz. velvetta, shredded (feel free to cut back on the velvetta if you don't want it to be super creamy)
1 cup sharp cheddar (can use less if you don't like a sharp taste in your mac n cheese)
1 cup colby & monteray jack, shredded (cheese blend)

Instructions

Preheat oven to 350
Cook macaroni until just al dente or a little under al dente. (Look on the back of the box to see how long you need to cook your pasta for it to reach al dente.) Be careful no to overcook.
Drain pasta and set aside.
In a large bowl, add milk, heavy cream & cheeses (except for the smoked cheddar).
Stir to combine.
Taste the milk mixture and add salt & pepper until it has a good taste. You can also add in other seasonings like onion, paprika, etc. Tasting will help avoid having a plain, bland bake macaroni & cheese. Yuck!
When you are content with the taste, add in the eggs.
Stir well until combined.
Butter a 9 x 9 inch baking dish.
Add macaroni to the baking dish.
Pour cheese mixture over macaroni.
Make sure the cheese distributed well.
Top with smoked cheddar cheese. (I add a little more Colby jack as well.) Sprinkle with paprika and/or black pepper, if desired.
Bake for 35-45 minutes. Do not overbake. It may be a bit jiggly when you take it out of the oven. It will firm up as it cool.
Let cool for about 10-15 minutes or until fully set.
Enjoy!
Source and Photos – Recipe from Divas Can Cook