Not Just Baked Mac n Cheese…simply the best!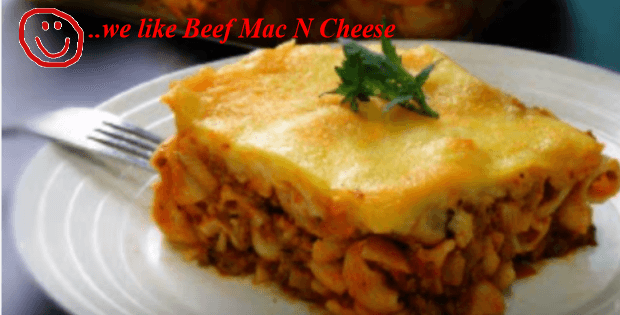 |
A great change from lasagna and spaghetti – try this great Mac n Cheese….with meat.
The Filipinos know a thing or two about music but this Mac N Cheese WITH MEAT recipe proves they know about scrummy pasta as well !!
This Mac n Cheese recipe goes beyond the classic comfort food, the meat based sauce combined with a combination of cheeses is simply brilliant with macaroni.
Go on give this a try this week and don't forget to stop by and let us know what you think.
Ingredients:
300 g elbow macaroni noodles
24 oz spaghetti sauce
1/2 kilo ground beef
1/4 cup grated cheddar cheese
1/4 cup grated Parmesan cheese (optional)
1/2 cup grated mozzarella cheese (optional)
1 small onion chopped
3 cloves garlic minced
1/4 cup water
2 tbsp sugar
salt and pepper
cooking oil

For white sauce:
3 tbsp butter
1/4 cup all purpose flour
1 cup fresh milk
1/4 cup grated cheddar cheese