Is this the ultimate hangover cure?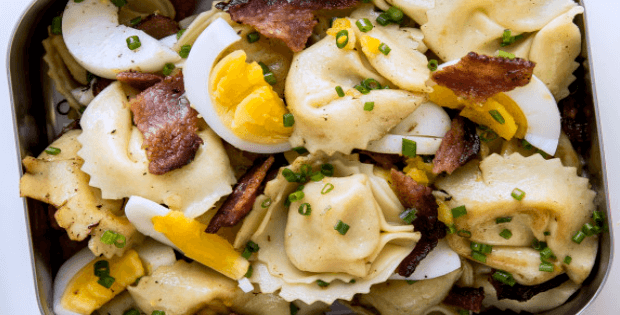 |
Pasta For Breakfast Anyone? We're Loving This Alternative To Our Usual Porridge.
Are you fed up or bored with the usual cereal for breakfast? Well so are we here at Scrummy Pasta and this pasta Bacon & Egg Tortellini recipe is the answer to our dreams. Much better than a fry up.
We often get up late but no worries this makes a great brunch and it's often helped cure a sore head after one to many the night before!!
Do you have any other breakfast pasta suggestions? Please share them with us.
Ingredients
Servings: 2

2 slices bacon
2 large eggs
6 ounces cheese tortellini
Kosher salt
1 tablespoon finely chopped fresh chives
Freshly ground black pepper

Method
Cook bacon over medium heat in a large skillet, turning once, until crisp, 5–7 minutes. Transfer bacon to paper towels to drain; reserve 2 Tbsp. bacon fat, then wipe out skillet. Let bacon cool, then break into small pieces.
Cover eggs (older eggs will be easier to peel) with cold water in a medium heavy saucepan. Bring to a boil, then immediately cover and remove pan from heat. Let stand 7 minutes (this yields a hard-boiled egg with a jammy yolk; if you like your eggs more cooked, increase cooking time by 2–3 minutes). Transfer eggs to a large bowl of ice water. Peel eggs, then slice into half moons.
Cook tortellini in a large pot of boiling salted water until al dente; drain and transfer to a medium bowl. Add reserved bacon, bacon fat, eggs, and chives. Season with salt and pepper and toss gently to combine.
Do Ahead: Hard-boiled eggs can be made up to 4 days ahead. Cover and chill.