Mandarin & Spinach Pasta Salad – Teriyaki Dressing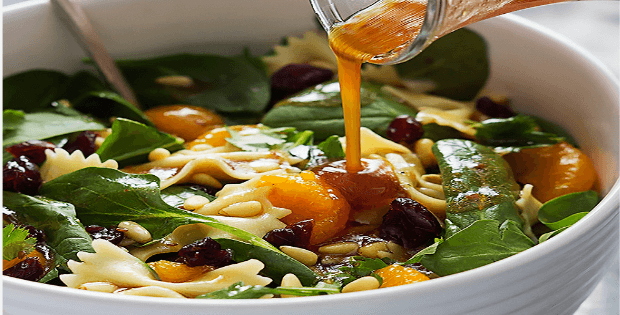 |
Everyone Will Rave About This Pasta Salad – Not A Morsel Left !
This mandarin & spinach pasta salad is quick and easy to make and looks pretty if you use bowtie pasta.
It's the teriyaki vinaigrette dressing that makes this pasta dish, you'll be making this dressing more often and trying it with other dishes !
At Scrummy Pasta we like to serve it at our Summer Barbeques to accompany a plain grilled chicken.
Let us know and share other dishes you like to use this dressing with…
Ingredients

8 ounces bowtie pasta
4 cups spinach leaves
½ cup raisins
⅓ cup cashews or California Pine Nuts
1 x 4-ounce can mandarin oranges, drained
¼ cup cilantro leaves, roughly chopped

Dressing

⅓ cup teriyaki sauce (the thicker, the better!)
⅓ cup rice wine vinegar (may sub apple cider vinegar)
½ teaspoon garlic powder
½ teaspoon onion powder (if you have it)
¼ teaspoon salt
¼ teaspoon black pepper
1 tablespoon sugar
½ cup oil (such as vegetable oil, canola oil, olive oil)

Instructions

Cook the bowtie pasta according to package instructions, drain and rinse with cold water. Set aside.
While pasta is boiling, prepare the dressing. In a jar combine all dressing ingredients. Cover and shake to combine. Chill until ready to use.
In a large bowl toss together pasta, spinach, raisins, nuts, mandarin oranges, and cilantro. Just before serving pour dressing over salad, toss, and serve.