Bet You've Never Had A BLT Like This Before!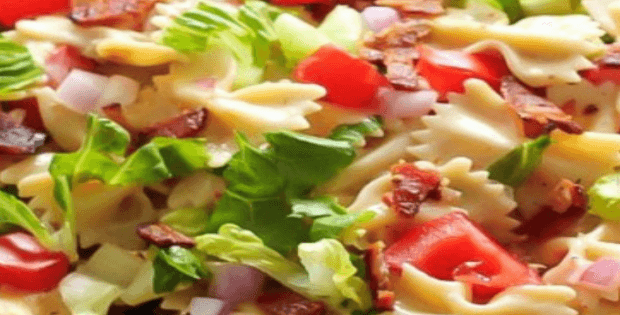 |
Scrummy BLT Pasta Salad Takes Inspiration From The Classic BLT Sandwich.
If you're a fan of crispy Bacon Lettuce and Tomato sandwiches then you'll absolutely love this pasta salad that takes these ingredients and jazzes them up by adding a tangy creamy vibe.
It's quick to make and can be made in advance provided you toss in the lettuce at the last minute before serving.
Here at ScrummyPasta we like to serve this at our BBQ'S alongside flame grilled chicken and a glass of our favorite craft steam beer.
How do you like to serve it? Let us know below.
Ingredients

1 pound bow tie pasta
1 cup Kraft Zest Italian Salad Dressing (Kraft Zesty Italian now has even more herbs & spices!)
1/2 cup Kraft Creamy Ranch (The Classic Ranch is now creamier, with more buttermilk and savory herbs.)
1 pound thick cut bacon, fried until crispy then cut into strips or crumbled (I think strips looks prettier, but it is more work)
2 large ripe tomatoes, diced (heirlooms work great here if you can get your hands on them)
10 leaves of crispy romaine lettuce, washed / dried / and cut chopped into bite sized pieces
1 VERY small onion red onion, diced
Salt and pepper, to taste

Instructions

Bring a large pot of salted water to boil. Add pasta and cook until al dente, about 10 minutes.
Drain pasta and rinse under cold water until cool.
While the water is coming to a boil, heat a skillet over medium heat, add bacon strips, and cook until crispy, about 4 minutes on each side. Transfer bacon to a paper towel lined plate.
Place cooled pasta in a large serving bowl; set aside.
In a small bowl combine zesty Italian dressing and ranch, mix well. Add dressing to pasta and toss well to coat pasta.
Add bacon, lettuce, tomato, and onion to the pasta bowl, mix well to combine, and season with salt and pepper as desired. Serve at once, or chill until needed.
Source including photo – Baker By Nature