Vegetarian Pasta Recipe: Butternut Squash & Spinach Lasagna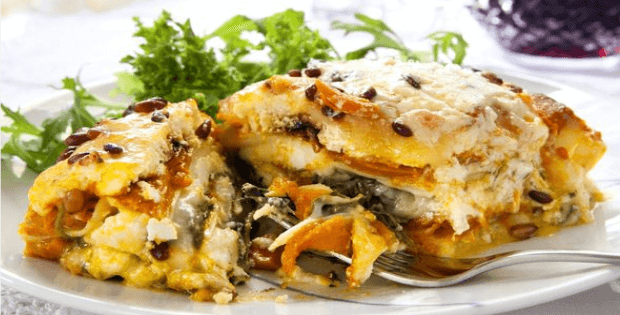 |
Attention Vegetarian Pasta lovers – this version of the classic Italian Lasagna is one for you.
Lasagna doesn't have to be made with meat and this butternut squash & spinach version is absolutely delicious whether you're a vegetarian or not.
Lasagne are traditionally oven-baked and this one is no different, it's a lot of work but worth all the effort, Simply Divine !
— Tried other fillings? let us know how they turned out —
Serves 8

Ingredients

9 no-boil lasagna noodles
2 large butternut squash, peeled, seeded and cubed
1 pound fresh spinach
6 cloves garlic, peeled and crushed
2 cups parmesan cheese, plus extra for garnish
1 1/2 cups ricotta cheese
1/2 cup (1 stick) unsalted butter
1/4 cup pine nuts
1/4 cup amaretti cookies
2 tablespoons extra-virgin olive oil
1/4 teaspoon nutmeg
kosher salt and freshly ground pepper, to taste

Béchamel:

6 cups whole milk
6 tablespoons unsalted butter, cubed
6 tablespoons all-purpose flour
1/4 teaspoon nutmeg
kosher salt and freshly ground pepper, to taste

Directions

Preheat oven to 375º F.
In a large bowl, toss together cubed butternut squash with 1 tablespoon olive oil, crushed garlic, salt and pepper.
Spread mixture out onto a baking sheet and roast for 30 minutes, or until squash is tender.
Remove from oven and transfer vegetables back to the bowl. Use 2 forks to mash until semi-smooth.
Heat remaining olive oil in a large skillet over medium-high heat and sauté spinach until wilted. 3-4 minutes. Season with salt and pepper and set aside.
Take 1 stick butter and place it in a small saucepan over medium heat and cook for 3 minutes, or until browned. Pour over butternut squash.
Gradually add parmesan cheese, amaretti cookies, nutmeg, salt and pepper, tasting in between, until desired flavor is achieved. Set aside.
To make the béchamel, heat butter in a medium saucepan over medium heat and cook until melted.
Slowly whisk in flour to create a roux and cook for about 3 minutes to cook the flour. Don't let it burn or brown.
Whisking continuously, pour in milk and keep stirring until smooth.
Season with nutmeg, salt and pepper.
Assemble lasagna by spreading 4-5 tablespoons of béchamel over the bottom of baking dish.
Place 3 noodles out across the béchamel and top with 1/2 squash mixture, 1/2 cup ricotta, 1/2 of spinach and 3 more lasagna noodles.
Continue with another layer of béchamel, squash, ricotta, spinach and last 3 noodles.
Finish with remaining béchamel, sprinkle with parmesan cheese and pine nuts, and bake, covered, for 20 minutes.
Remove foil and bake for another 25, or until bubbly.
Serve immediately, garnished with more parmesan and pine nuts.

Recipe adapted from Martha Stewart
Photo Source –