Lemony Spinach and Pea Pasta Soup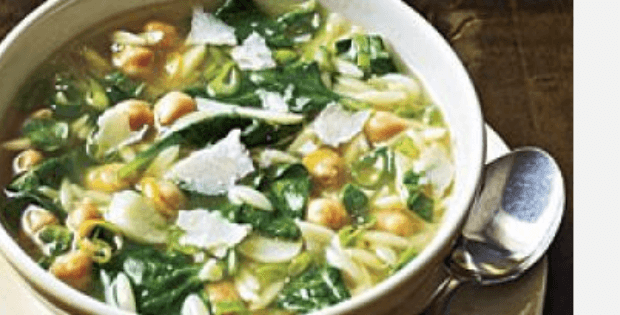 |
One Pot Spinach and Pea Pasta Soup – Absolutely Delicious & So Easy!
If your looking for a quick to make pasta soup then this Spinach and Pea Pasta Soup really couldn't be easier!
This recipe combines lemon with chickpeas, spinach and pasta for a hearty but refreshing meal.
If you are a vegetarian you can still enjoy this lovely soup just substitute organic or lower-sodium vegetable broth for the chicken stock.
If you like this soup tell us..
Ingredients

1 tablespoon extra-virgin olive oil
3 garlic cloves, thinly sliced
2 thinly sliced green onions
4 cups fat-free, lower-sodium chicken broth
2 cups water
3/4 cup uncooked orzo
1 tablespoon grated lemon rind
1 (15-ounce) can no-salt-added chickpeas (garbanzo beans), drained
1 tablespoon chopped fresh oregano
1 tablespoon lemon juice
1/2 teaspoon freshly ground black pepper
1/8 teaspoon salt
1 (6-ounce) package fresh baby spinach
1/3 cup grated Parmesan cheese

Preparation

Heat a large saucepan over high heat. Add olive oil to pan; swirl to coat.
Add garlic and onions; sauté 30 seconds, stirring constantly.
Add chicken broth and 2 cups water; bring to a boil.
Add orzo, lemon rind, and chickpeas.
Cover and cook 10 minutes or until orzo is done.
Stir in oregano and next 4 ingredients (through spinach).
Ladle 1 x 3/4 cups soup into each of 4 bowls; top each serving with about 4 teaspoons cheese.
Source – Sandy Gluck – Cooking Light
Photo – Photo: John Autry; Styling: Cindy Barr