Perfect Spaghetti alle Vongole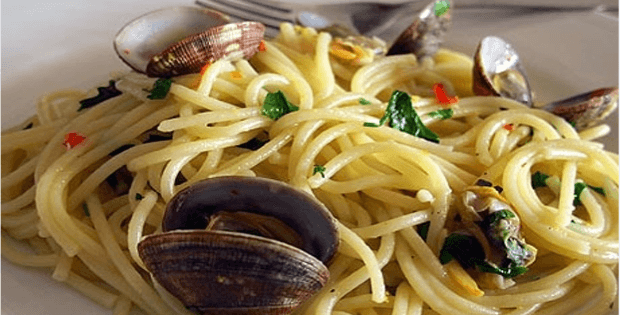 |
Spaghetti vongole or spaghetti with clams is a simple dish very popular throughout Italy that can be served up in minutes.
So often this dish can be ruined by dirt and grit in the clams, the secret to eating clams tasting of the sea is to allow plenty of time for the clams to expel any silt they contain. This recipe suggests leaving them for a couple of hours in salted water but here at Scrummy Pasta we prefer to buy our clams a day or two before we need them and we soak them in salt water until we're ready to use them. That way we can be sure the clams will be clean of mud and grit.
Once you master this dish why not try using linguine, or vermicelli as an alternative to the spaghetti, add sun and serve with a lovely glass of Italian white wine and imagine yourself sitting on the Neapolitan coast !
— What wine goes well with this pasta dish? Let us know what you liked —
Serves 4

500g small clams (palourdes, or carpet shell are ideal)
350g spaghetti (dried)
30g butter
2 tbsp extra virgin olive oil
3 fat cloves of garlic, finely chopped
½ medium-hot red chilli, finely chopped
100ml dry white wine
Small bunch of flat-leaf parsley, roughly chopped
Zest of ½ a lemon and a spritz of juice

1. Rinse the clams in cold running water, and scrub if necessary, then put them into a large bowl and cover with cold water. Salt generously and leave for a couple of hours, then drain and rinse well to remove any grit or sand.

2. Put the spaghetti into a large pan of salted boiling water and cook for a couple of minutes under the recommended time, until nearly done.

3. Meanwhile, put half the butter and all the olive oil in a large pan over a medium heat and soften the garlic and chilli.

4. Add the drained clams, and turn up the heat. Pour in the wine, cover and leave for a couple of minutes until most of them have opened. Discard any that are still closed. Add the others to the sauce, picking a few out of their shells for variety.

5. Drain the spaghetti and add to the pan along with the remaining butter. Toss well and leave for a minute, then stir through the chopped parsley, lemon zest and juice, season to taste and serve.
What other pasta dishes do you cook with clams? Share it with us…
Source – Felicity's perfect spaghetti alle vongole.
Photograph: Felicity Cloake for the Guardian Felicity Cloake/Guardian